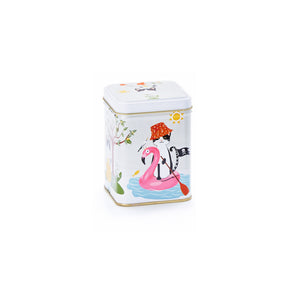 Inclusief gratis kaartje met je eigen tekst

Free returns within 14 days

Free home delivery from €30 (NL)
*View the current delivery time here.

With this nice little tea tin, making tea really becomes a party. You can keep your tea fresh for a long time in this storage tin.

• Nice modern design
• For approx. 50 grams of tea

Also view the matching cups here.
Package contents: 1 tea tin
Dimensions: approx. 5.5 x 5.5 x 8 cm
Inhoud: for approx. 50 grams of tea
Product weight: approx. 55 grams
Material: Tin can
Microwave safe: No
Dishwasher safe: No
Our Webshop reveiws
⭐️⭐️⭐️⭐️⭐️

Goede service! Er was iets mis gegaan maar keurig opgelost

Sandra kleberg Heart Craft via Google
⭐️⭐️⭐️⭐️⭐️

This is the beast tea this is the best tea i have ever tasted! Amazing taste and result!

Полина Димитрова via Google
⭐️⭐️⭐️⭐️⭐️

Goede producten en snelle levering, helemaal top 👌🏻

Helga Wildeman via Google
⭐️⭐️⭐️⭐️⭐️

Sinds een tijdje bestel ik thee bij Earl Orange! De service top! Maar nog belangrijker: het is heerlijk! Ze hebben heel veel keus, ik drink nu tijdens het werk altijd de Relax & Concentratie thee, deze is erg lekker. Ook hebben ze echt toffe accessoires waardoor thee drinken nog leuker wordt!

Laura van der Veen-Arends via Google
⭐️⭐️⭐️⭐️⭐️

Goede ervaringen met Earl Orange, klantvriendelijk, goede producten, snelle levering. Uiterst tevreden. 👍👍

Karen de jeu via Google
⭐️⭐️⭐️⭐️⭐️

Ik ontvang al 2 maanden de suprise box met heerlijke smaken thee! Veel variatie, mooie verpakking en snelle bezorging! Earl orange heeft losse thee waardoor je zelf makkelijk de sterkte van de thee kan bepalen en het is veel milieuvriendelijker dan zakjes.

Marianne Tijsen via Google
⭐️⭐️⭐️⭐️⭐️

Super service, they answer all your questions quickly and friendly. They helped us making our chose and then after a only a couple of days our order already arrived (in Belgium). Nice and firm box, sturdy packaging. We very much recommend! A selection of their tea makes the perfect end-of-year gift or for any other occasion really.

Hannah Eeckhout via Facebook
⭐️⭐️⭐️⭐️⭐️

Ik kreeg een Warm Hug theepakket door mijn brievenbus en dacht 'Huh?!'. Maar bleek een ontzettend leuk kaartje in te zitten. Leuk cadeautje van een vriendin van mij. Ik kende Earl Orange nog niet, maar erg lekkere thee! En leuke website. Bedankt!! :-)

Chantal Nieuwenhuizen via Google
⭐️⭐️⭐️⭐️⭐️

Uitstekende thee, vriendelijke service, mooie website. Ik ga zeker weer bestellen!

Emily Woestenenk via Google