Loose tea boxes
Would you like to give loose tea as a gift to someone or to yourself? Shop our Tea Boxes here. You can add a personal note on the free postcard in the box.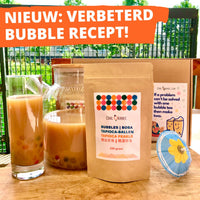 NEW: UPGRADED BUBBLE TEA BOX
With our new bubbles you can now get them ready within 10 minutes! Curious? Try it now! ❤
Order here ➔
ADD TEA CAN, MUG OR MORE?
Add a gift card?
Would you like to surprise someone with a Gift card that the lucky person can use to shop online in our webshop? Then the Earl Orange Gift card is the ideal solution. You can order the gift card separately or order it together with other products.
Order here ➔