Loose tea with a greeting card 💌
Surprise your friends, family, colleague, loved one... with a really warm gesture. Send a greeting card today along with the most delicious loose tea. 

✅ Includes card with your own text.
✅ Free shipping within the Netherlands.
✅ Wide choice of different cards.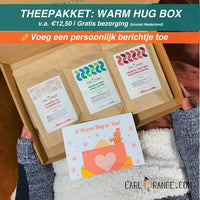 Popular: Warm Hug Box
Tea package with the most delicious tea for a warm greeting. Choose from various greeting cards. Who will you send a greeting card with real loose tea as a gift this year?
Order here
How do you send loose tea with a card?
👉 Step 1: Choose a tea package and add it to your shopping cart.
👉 Step 2: Go to the shopping cart and choose a card and add your own text in the shopping cart.
👉 Step 3: Enter the delivery address and complete your order. We will send the package directly to the lucky one. You will receive a track & trace code, so you know exactly when your surprise has been delivered.
Which cards can I choose?
👉
Check out
here all card themes
that you can select. To make your choice, all you have to do is remember the number. You enter the number in the shopping cart at checkout.
ADD TEA CAN, MUG OR MORE?
Add a gift card?
Would you like to surprise someone with a Gift card that the lucky person can use to shop online in our webshop? Then the Earl Orange Gift card is the ideal solution. You can order the gift card separately or order it together with other products.
Order here ➔