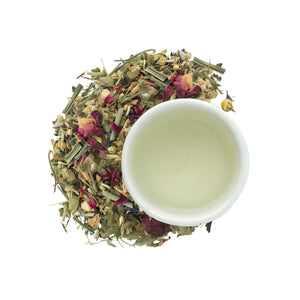 Inclusief gratis kaartje met je eigen tekst

Sustainably grown with respect for people and environment

Extremely fresh thanks to airtight & recyclable packaging

Free home delivery from €30 (NL)
*View the current delivery time here.

Rich mix of spices and a little fruit. This tea is packed with surprising herbs, including lavender, nettle, horsetail, lady's mantle and yarrow. Dried pieces of papaya and pineapple have also been added to this spicy taste for a perfect balance. Be surprised by this spicy tea blend.
FRAGRANCE
Smells like a mix of fresh herbs.
TASTE
Characteristic, surprising herbal taste.
BREW ADVICE:
    Teaspoons:
    2
    Water:
    100 °C
    Per:
    250ml
    Brewing time:
    8-10 minutes
Ingredients: ginger, papaya, pineapple, sugar, citric acid (acidifier), lemongrass, yarrow, lady's mantle, horsetail, aloe vera, nettle leaf, balm, daisy petals, rose petals, lavender blossom, cranberry, cornflower petals.
Allergy Information: Contains no allergen products.
Theine: No.

Best before: minimum 6 months after delivery.
Storage advice: keep tightly closed, dry and dark.
Article number: ET00081
Our Webshop reveiws
⭐️⭐️⭐️⭐️⭐️

Goede service! Er was iets mis gegaan maar keurig opgelost

Sandra kleberg Heart Craft via Google
⭐️⭐️⭐️⭐️⭐️

This is the beast tea this is the best tea i have ever tasted! Amazing taste and result!

Полина Димитрова via Google
⭐️⭐️⭐️⭐️⭐️

Goede producten en snelle levering, helemaal top 👌🏻

Helga Wildeman via Google
⭐️⭐️⭐️⭐️⭐️

Sinds een tijdje bestel ik thee bij Earl Orange! De service top! Maar nog belangrijker: het is heerlijk! Ze hebben heel veel keus, ik drink nu tijdens het werk altijd de Relax & Concentratie thee, deze is erg lekker. Ook hebben ze echt toffe accessoires waardoor thee drinken nog leuker wordt!

Laura van der Veen-Arends via Google
⭐️⭐️⭐️⭐️⭐️

Goede ervaringen met Earl Orange, klantvriendelijk, goede producten, snelle levering. Uiterst tevreden. 👍👍

Karen de jeu via Google
⭐️⭐️⭐️⭐️⭐️

Ik ontvang al 2 maanden de suprise box met heerlijke smaken thee! Veel variatie, mooie verpakking en snelle bezorging! Earl orange heeft losse thee waardoor je zelf makkelijk de sterkte van de thee kan bepalen en het is veel milieuvriendelijker dan zakjes.

Marianne Tijsen via Google
⭐️⭐️⭐️⭐️⭐️

Super service, they answer all your questions quickly and friendly. They helped us making our chose and then after a only a couple of days our order already arrived (in Belgium). Nice and firm box, sturdy packaging. We very much recommend! A selection of their tea makes the perfect end-of-year gift or for any other occasion really.

Hannah Eeckhout via Facebook
⭐️⭐️⭐️⭐️⭐️

Ik kreeg een Warm Hug theepakket door mijn brievenbus en dacht 'Huh?!'. Maar bleek een ontzettend leuk kaartje in te zitten. Leuk cadeautje van een vriendin van mij. Ik kende Earl Orange nog niet, maar erg lekkere thee! En leuke website. Bedankt!! :-)

Chantal Nieuwenhuizen via Google
⭐️⭐️⭐️⭐️⭐️

Uitstekende thee, vriendelijke service, mooie website. Ik ga zeker weer bestellen!

Emily Woestenenk via Google